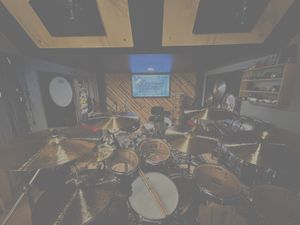 About
Hi,
I will be your session drummer. I am a graduate of Musicians Institute, in Hollywood Ca. I studied with session drumming greats  Steve Houghton, Ralph Humphrey, Joe Porcaro,  and Curt Bisquera. My studies ranged in styles from jazz, fusion,  latin, rock, funk and pop. Upon graduating MI, I recorded and performed with a variety of bands and artists in L.A. I later returned to Texas to record and perform with bands in Austin and Dallas. While in Dallas I studied audio engineering at Cedar Valley College where I completed my degree in music  recording. 
After years of drumming with live bands and recording drums, both behind the drum kit and as the audio engineer,  it was time to build my own home studio. In my studio I am able to record consistent drum sounds using  gear that I know best, which offers you better track and keeps your production costs low.
Setting up drums and getting sounds can take hours -  hours that you spend a lot of time and money on before you even  record tracks. In my studio the drums are mic'd up and ready to record. With a few simple changes in microphone or snare selection  I can quickly achieve a drum sound to compliment your tracks. 
My job is  to give you the best possible drum tracks to support your songs and help you convey your message as an artist.
I look forward to the opportunity to collaborate with you.
Thank you 
Kyle Denney